MONUMENTAL INSTALLATION 2019
The congolese artist Houston Maludi represented by MAGNIN-A gallery, will invest the central aisle of the Carreau du Temple, to immerse the public into a unique artistic experience.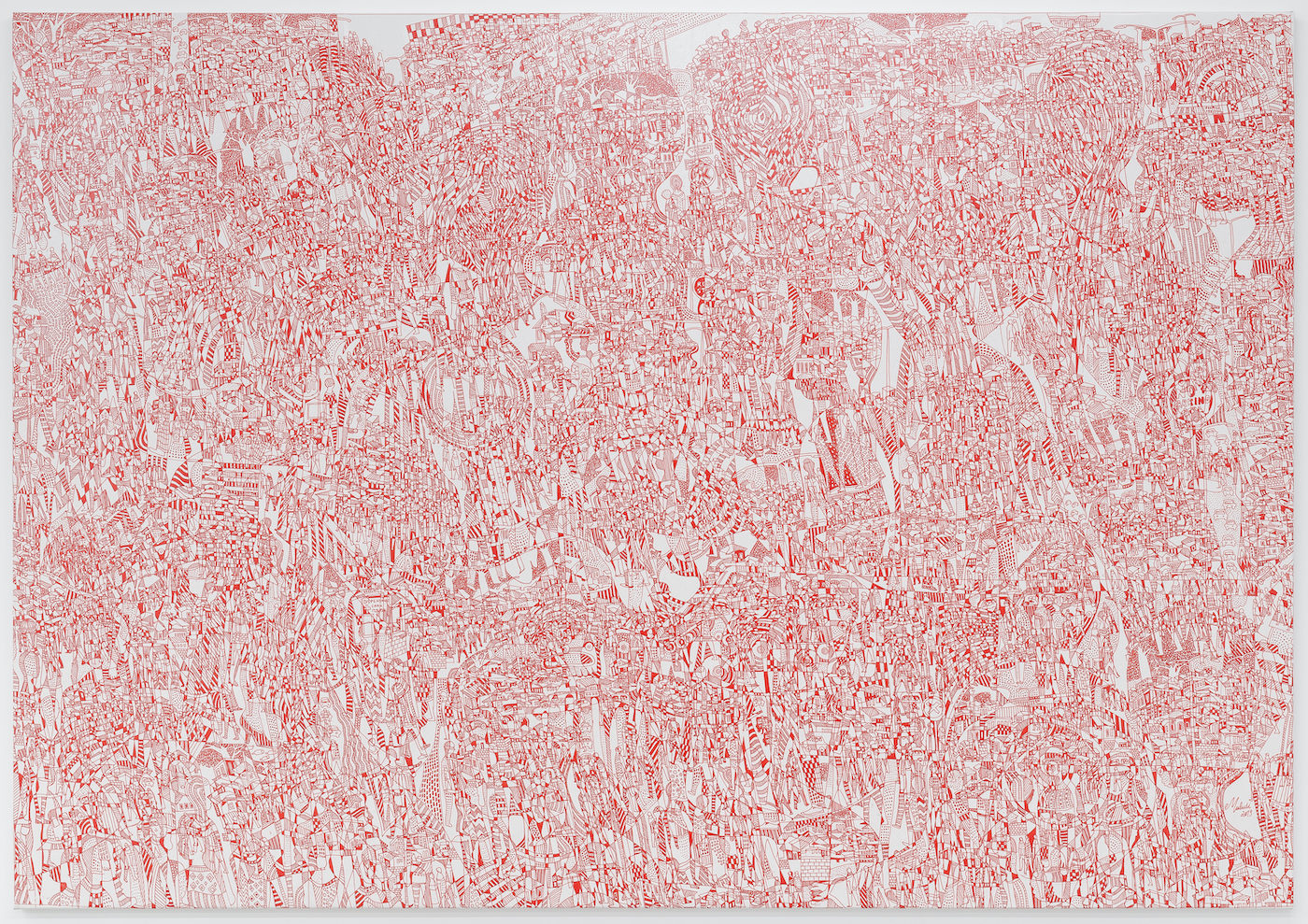 Red time
Ink on canvas
2019
Courtesy MAGNIN-A
"I seek the truth in form because matter is an obstacle to the sight; I pierce it to discover the infinite universe. This is my approach and my philosophy."
Inspired by the cubist painters Georges Braques and Pablo Picasso, and after years of experimentation and aesthetic research, he developed in 2008 a personal cubism, the "Monochromic Quantum Symbiotic Cubism" that he obtained through a "Symbiosis of forms." Maludi mainly uses black and white (or other contrasted duotone) and a sinuous continuous line that defines all levels of reading of the work. He seeks to achieve "a perfect and discreet unity of the elements." The same curve can trace the shoulder of a character in the foreground and the edge of a crowded road at another reading level. Everything is in everything.
The line expresses life in its dynamism. It seems infinite and fills the canvas in a kind of Horror Vacui that can evoke both the reality of a congested city like Kinshasa, and the absence of emptiness in the universe. The limited colour palette used by the artist accentuates the graphic quality of his work. From a distance, his works can evoke fuzzy monochromes, before revealing vibrant urban landscapes. "In symbiotics there is no such thing as an error; if you know how to use it, it becomes a new line, which you integrate into the composition"
For Maludi, art is a quest. He seeks to discover the truth in the infinite universe. His name, Maludi, means Freedom. He does not believe he creates his paintings, but rather that his works shape him and leave an imprint on him. He learns from each piece he completes. He progresses and matures with his artistic production.