MONUMENTAL INSTALLATION 2021
We are thrilled to welcome Morné Visagie, invited artist for the 2021 monumental installation in the central aisle of the fair. Morné Visagie is a South African artist represented by Nuweland Gallery.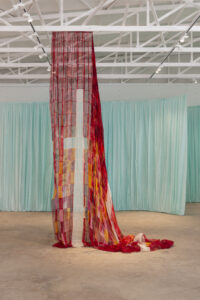 Untitled II (The Last Colour to Fade)
2018-2019,
Collected, recycled and sewn tarlatan cloth (printing rags),
Courtesy Nuweland
Colour is primary in Morné's practise. His restrained palette of blues, reds and golds are expanded into bodies of colour. These coloured somas fall from the ceiling, either diffusing upwards or cascading to the ground, collapsing like chandeliers or waterfalls.
The bodies of colour in this installation are, in part, abstract interpretations of references taken from literature, film, and memory. They are also purely evocative fields, which inspire a sense of wonder and pleasure. Paying careful attention to visual harmony, the colour, line, shape and form of these works are visually arresting. Each work is a sensuous backdrop, an isolated space, which is disrupted only by the spectre of violence left unsaid. The absence of the human body opens the work to narratives in which the imagined body is held between flight, falling and sinking. Abstracted, Visagie's work is a veil, which obscures its references even as it will not conceal them.
As Derek Jarman writes, monochrome colour is a "liberation from personality. It articulates silence. It is a fragment of an immense work without limit. The blue of the landscape of liberty." (Peake, 1999:515). Visagie takes this to suggest that his works, with their insistent monochromatic themes, occupy a place caught between history, memory and thought, and another free of biography, of words and notions. The colours are not yet silent, but rather the veil, backdrop and carrier of countless narratives. Like light refracting off the water's surface, the image is incomplete, each reflection a shard of a whole that cannot be held still.
M.V