MONUMENTAL INSTALLATION 2022
We are thrilled to welcome Abdoulaye Konaté, invited artist for the 2021 monumental installation in the central aisle of the fair. Abdoulaye Konaté is a Malian artist and an emblematic figure of African contemporary visual arts, he is represented by La Galerie 38, based in Casablanca, Morocco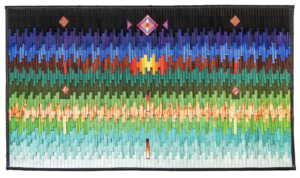 Hommage à la femme marocaine)
2020,
Bazin, 229 x 403 cm,
© Fouad Maazouz,  Courtesy La Galerie 38
If Abdoulaye Konaté makes textile his material of choice, what absorbs us from the first perception of his works, are the nuances, the hues, and the shimmer of colors.
Assisted by his apprentices, he works on the floor, assembles the strips of fabric one by one, experiments with his color chart, and then sews his composition like the painter who sets his painting on the canvas.
The spectacular effect of the «color-movements» is associated with a score of bazin strips whose perfect and mastered technique resumes the aesthetics of the traditional outfits of Senoufo dancer-musicians. This similar composition of fabric strips sewn onto the dancers' tunics is designed to vibrate in echo with the music, as they move their bodies.
– Armelle Dakouo, Artistic Director of AKAA