AGAINST THE FLOW OF TIME
April 6 – May 24, 2022
Chez Manifesta 
6 rue Pizay, 69001 LYON
Against the flow of time, curated by Armelle Dakouo, Artistic Director of AKAA.
This exhibition is inspired by the autobiographical work of Birago Diop. It questions the mark of time on contemporary creation. Over the past two years time has stretched and even stoped. We have had to start relearning the true value of what constitutes time: our environment and the living which surrounds us.
Discover the list of artists whose relationship to time is expressed through their art.
Leslie Amine
Galerie Anne de Villepoix
Marcelo Brodsky
ARTCO Gallery
Christa David
193 Gallery
Lélia Demoisy
By Lara Sedbon
Omar Victor Diop
MAGNIN-A
Dimitri Fagbohoun
Galerie Cécile Fakhoury
Ernesto Jésus García
193 Gallery
Abdoulaye Konaté
Galerie 38
Marie-Claire Messouma Manlanbien
Galerie Cécile Fakhoury
Marcel Miracle
MAGNIN-A
Jean David Nkot
AFIKARIS
Boluwatife Oyediran
AFIKARIS
Fahamu Pecou
Backslash Gallery
With the participation of
Gwladys Gambie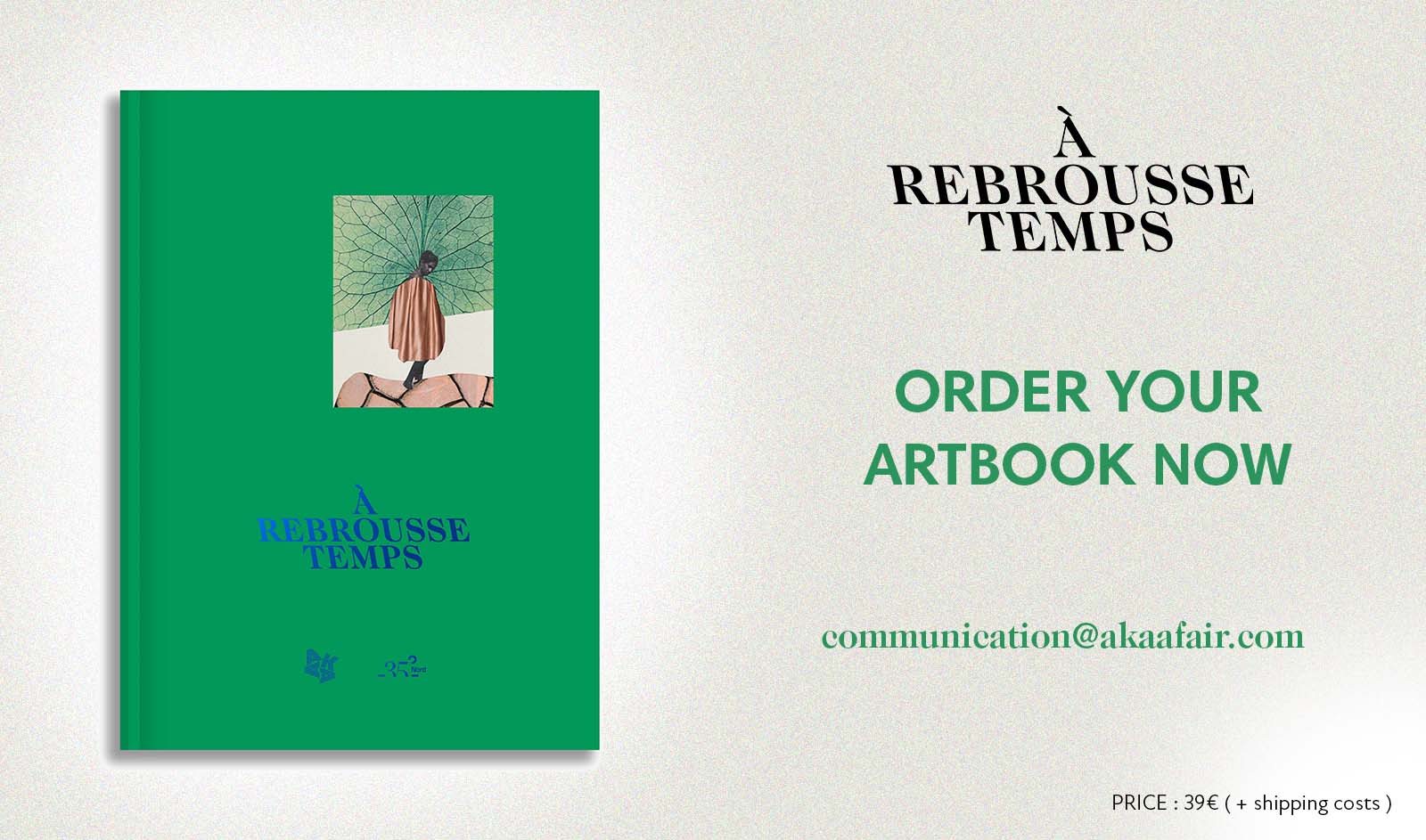 Order your art book now by writing at :
communication@akaafair.com
We are proud to present our first ART BOOK produced with the support of our partner 35°Nord. Against the flow of time inspired by Birago Diop's memoir (Présence Africaine), is a poetic invitation to rethink temporality after the slowing down of time and the constraint of waiting that we've experienced this past year. Three authors, Julie Crenn, Dénètem Touam Bona and Armelle Dakouo address this theme through the work of seventeen artists and their relationship to time and the imprint it leaves in their artistic creation.