La page n'était pas blanche
Carte Blanche Exhibition – Les Rencontres AKAA
The Marcelles Marseille non-profit is invited for a Carte Blanche at AKAA 2023. This exhibition, called La page n'était pas blanche (The page wasn't blank), is a collaboration between Curator Farrah Bencheikh and Scenographer Violette Dadat.
The title of the exhibition derives from Mohammed Laouli's work Les sculptures n'étaient pas blanches (2020), which is drawn from a performance inspired by the anniversary of the Colonial Exhibition, in which anti-colonial demonstrators painted monumental artworks red as an act of global recontextualization. Meanwhile, Mohammed Laouli was "taking care" of "distancing himself from long standing  power relations", by cleaning a sculpture on the steps of Marseille's Saint-Charles station, as an act of reconciliation.
The direction of the exhibition is to move away from belligerent or binary relationships. Behind the whiteness of these sculptures lie abject assumptions and the reactions they provoke, both in terms of the hyper-sexualisation of women and ethnicity, which have been studied through the concept of "intersectionality" since the 1990s.
Yet we are still not free of this heritage of identity, as the works of Hélène Bellenger, Willow Evann, Jérôme Havre, Mohammed Laouli, Théo Ouaki, and Yazid Oulab show us in a new light.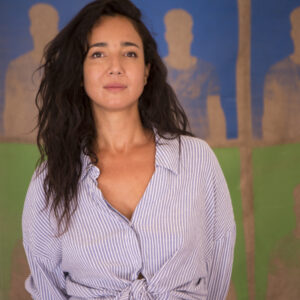 Parisian by spirit living in Marseille, has been invited to curate the Carte Blanche exhibition for the Rencontres AKAA. Scenography is designed by Violette Dadat. 
Farrah has always been passionate about art, and has interacted with collectors, galleries and artists for over a decade. Interested in several aesthetic movements, she explores the new ways of using certain media, such as the plastic use of photography embodied by the emerging art scene, which she confronts with established artists with more traditional practices such as painting. Her research focuses the environment, gender, decolonization and, more broadly, identity. Transmission is at the heart of her work.