LIMIN/EN
The monumental installation by artist Cosmo Whyte is curated this year by Dr. Fahamu Pecou, artist and Founder of ADAMA (African Diaspora Art Museum of Atlanta).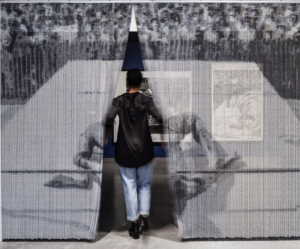 The Interlocutor, 2022,
231,1 x 304,8 cm, hand painted beaded curtain
© Cosmo Whyte, Courtesy Anat Ebgi Gallery
In, Something Torn and New, Kenyan philosopher Ngugi wa Thiong'o delves into the profound repercussions of colonialism and the oppressive force of white supremacy on Black subjectivity. This impact resonates with people of African descent worldwide, whether in Africa, Europe, or the Americas, as they grapple with the lasting consequences of social isolation, the erosion of cultural and linguistic heritage, and even the physical torment inflicted by imperialistic encounters.
For his project Limin/en, Cosmo Whyte seeks to reconstruct and reclaim the fragmented histories and identities that have been torn apart by colonialism and white supremacy. Through his installation, he aims to bring together the scattered pieces of Black subjectivity, reconnecting them to their roots and reimagining a future that is rooted in liberation and self-determination.
Drawing inspiration from his late father's uncompleted architectural designs, Whyte explores the potential of communal design, particularly those rooted in West African principles. By incorporating images of Black bodies protesting against societal limitations, he highlights the ways in which the physical spaces we occupy can either confine or empower us. Through this juxtaposition, Whyte invites viewers to critically examine the relationship between architecture, power, and the Black experience.
In aligning his project with Thiong'o's concept of "re-membering," Whyte acknowledges the importance of reconstructing and redefining the Black body on individual, communal, and societal levels.
– Fahamu Pecou, artist and Founder (African Diaspora Art Museum of Atlanta).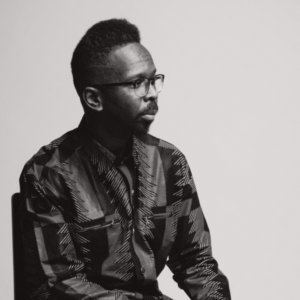 Dr. Fahamu Pecou is an interdisciplinary artist and scholar whose works combine observations on Hip-Hop, fine art, and popular culture, to address concerns around contemporary representations of Black men. Through paintings, performance art, and academic work, Dr. Pecou confronts the performance of Black masculinity and Black identity, challenging and expanding the reading, performance, and expressions of Blackness. 
Cosmo Whyte is represented by Anat Ebgi Gallery in Los Angeles.