Can art save the planet by opening our eyes? Nature is rebelling against an industrial society that consumes and ignores the consequences.
The Ravens Collection is a project inspired by current ecological challenges, that highlights modes of production which in resonance with the ideas it defends. The place given to the arts within the debate on climate change remains limited. By transforming material, Rj brings about an awakening, in the traditional way of the raven, a mythical creature that carries the gifts of clarity.
For AKAA, the Moroccan-born artist presents his latest works with a strong ecological commitment, in dialogue with each other and constantly evoking the spinning wheel of life in perpetual motion.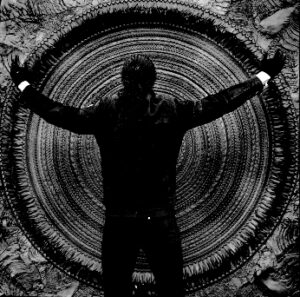 "The creative process for The Ravens Collection began in 2013, after a personal experience in East Africa. As head of craft and design training in workshops for youths, I developed close interest to the source of rubber. This experience, with its strong human and artistic sides, inspired a technique that I have developed and named "plucking". This process involves transforming sliced inner tubes into feathers, reminiscent of the soft plumage of a raven, the mythical creature which reveals light. After an exhibition in Paris in 2014, I devoted all my time to creating several new collections. My approach, based on ecological awareness, promotes dynamic recycling which respects our environment. It involves transforming recovered materials, either from nature like palm fibre or man-made like inner tubes and tyres. These materials, which are part of our everyday lives, would not otherwise have a second life. In my forthcoming exhibition at AKAA, these three materials are brought into dialogue with each other to trigger a reaction that highlights an educational message about the emergence of climate awareness." 
– RJ
The exposition The Ravens Collection by Rj is possible thanks to the partnership with Veolia, partnering with AKAA for the second time.